PSI Products is the best professional steam cleaner and pressure washer equipment dealer in Los Angeles and that Orange County have to offer. With over 40 years of experience, we understand the costs associated with your equipment downtime.
That's why we aim to get your repairs, maintenance, and service completed as effectively and efficiently as possible so that you can get back to serving your customers ASAP.
Services
At PSI Products, convenience and timeliness are high priorities for us, which is we we offer both in house and mobile services.
Whether you are in need of field or in shop services, we ensure that we'll get your equipment running smoothly as quickly as possible.
If your equipment is too large to be moved from your facility, or maybe you're too busy to drop it off at our shop, we're here to help.
Our mobile services will dispatch our field technicians on site, all fully equipped with cloud based software.
With this technology, our technicians are able to diagnose, address, and service your equipment without you having to step foot away from your facility.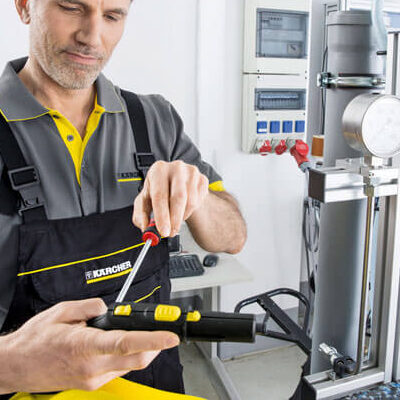 Preventative Maintenance Plans
Are you looking to extend the lifeline of your equipment? The best way to do so is by enrolling in our Preventative Maintenance Plans. We highly recommend you consider our Preventative Maintenance Plan, especially for any equipment that runs over 30 hours per week.
All of our Preventative Maintenance Plans include the following:
Complete system check
Oil changes
Spark plug changes
Filter changes
Check and adjust pump pressure and volume
Test burner systems
Pump crankcase oil
Fuel filter cartridge
Nozzle
Detergent feed
Systems
Belt tension
Hose for wear
Thermostat
Gun, wand, and grips
Quick couplers
Amp draw
Engine crankcase oil
Fuel filter
Benefits of a Preventative Maintenance Plan
If you're on the fence and not sure that a Preventative Maintenance Plan is right for you, take a look at some of the benefits you can look forward to enjoying:
Prevent larger equipment issues from occurring
Cost-effective pricing
Keep your equipment in the best possible shape
Minimize your time downtime
Preserve the longevity of your equipment
Regular Tune-Ups
All Preventative Maintenance Plans include regular tune-ups, which will also help to:
Prolong the life of the machine
Make it run more efficiently
Improve resale value
Save your machine from unexpected down-time
Equipment Serviced
At PSI Products we handle all sorts of professional equipment, with our most popular services occurring on the following:
Pressure washers
Steam cleaners
Parts washers
Wash water recycling systems
Surface cleaners
RO water systems
Generators
Compressors
Warranty Repair Center
Water pumps
Electric motors
Diesel engines and burners
Propane and NG burners
Certified Jenny,
Sioux, Mi-T-M, General Pump
Landa, and Karcher Techs
Call PSI Products Today!
PSI Products is a certified warranty repair center for most major brands. Our team consists of only the most knowledgeable, factory-trained technicians in the industry. If you're in need of repairs, service, or maintenance for your equipment, call the experts at PSI Products today!