We were proud to introduce and Demonstrate the new, Compact Dry Steam Machine for the Automotive Industry at the Optima Steamer Booth in SEMA 2022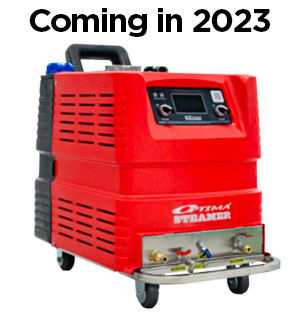 Ideal for owner operators who don't utilize dual hose capabilities
More compact and portable than Optima XD
Budget friendly option when compared to Optima XD
Delivers the same cleaning and sanitization power
The Optima Steamer XD has been the standard for auto detailing with the cleaning power of steam for a long time, and Steamericas is proud to announce a new, more compact version that delivers the same steam-cleaning power but is far more mobile – the Optima Steamer XDm. Weighing only 115 pounds, it's almost half the weight of the XD steamer, and it's also nearly half the size. This makes the XDm steamer a must-have for any mobile car wash or detailing service. Harnessing the power of steam cleaning has never been easier, thanks to the portability and convenience the XDm offers! The smaller size also means this unit is much quieter, using a DC motor for the blower fan rather than the AC motor in the XD. This fan can also be controlled from the LCD screen on the front of the unit with the push of a button, giving users more control and making operation easy. Despite the smaller size, lower weight, and different motor, the Optima Steamer XDm is still just as powerful and effective as the larger Optima Steamer XD.
The specifications of the Optima Steamer XDm are as follows:
Voltage 1-Phase, 115V or 230V
Operating Pressure 8.5bar / 9.5bar
Boiler Temperature 178 °C / 352F
Flow rate 250cc~500cc (.066~.13 gal) / min
Preheating Time 5 mins
Required Wattage 0.3 kW
Water Tank Capacity 11 liters (2.9gal)
Fuel Tank Capacity 11 liters (2.9gal) Fuel consumption 0.55 gallons / hour
Freight Dimensions 770 x 480 x 740 mm (30x19x29″)
Product Weight 52.5 kg (115lbs)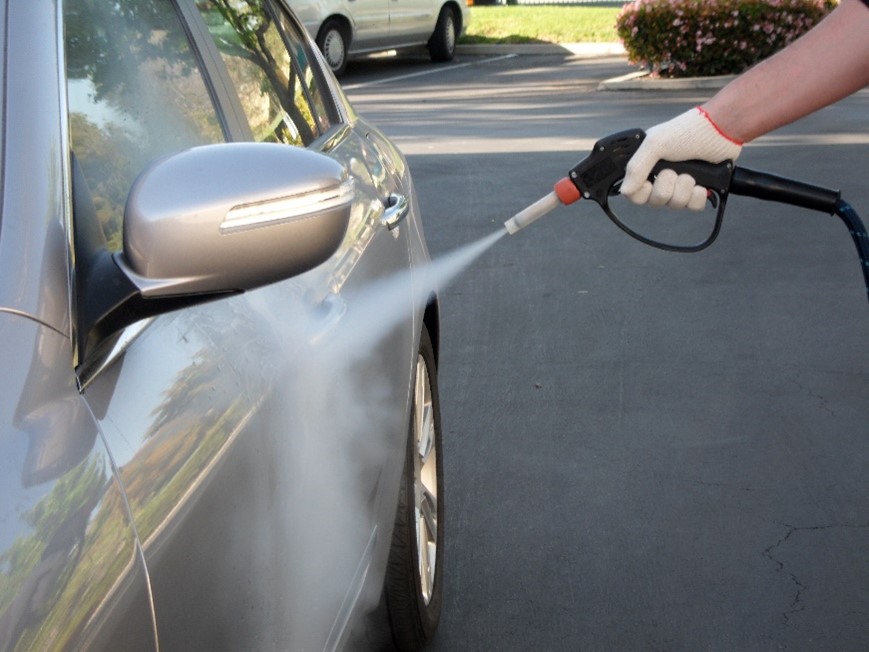 The Optima Steamer XDm was built with the needs of automotive contract cleaners in mind, making it ideal for a variety of mobile cleaning and sanitizing applications, including detailing, sanitizing, and the removal of wraps, surface decals, and film. While the XDm will primarily be used in the automotive industry, it is also effective for cleaning farming and recreation equipment along with municipal cleaning and sculpture and monument cleaning, and it even has use in disaster recovery.
The Optima Steamer XDm uses the same effective and eco-friendly steam technology as the XD, and it offers the same benefits for car cleaning and detailing. Steam cleaning allows automotive contract cleaners to consume a fraction of the water they would be using with other methods, eliminating water runoff and overspray, and eliminate harsh chemicals that could negatively affect the environment, all while still effectively removing stains, odors, grease, mold, bacteria, mold, yeast, fungi, and a variety of other dirt and debris. Steam cleaning also allows users to better reach the nooks, crannies, and other traditionally hard-to-reach areas. Furthermore, contract cleaning companies can market their services as quicker, more effective, and better for the environment when they primarily use a product like the Optima XDm.
If you would like more information about the Optima XDm, please call us at (714) 895-6694 or fill out our contact form below.